Page presented by Cornelius von Baeyer. Meet my family:
       Deceased:
       Living:
Edwinna von Baeyer -- My very nearest, and dearest -- landscape historian, writer, editor, and passionate Manchester United soccer fan.
Eliza von Baeyer -- Our eldest -- completing a PhD in organizational development & change, and also, as Indie*Go Designs, creator of fun, funky, original jewellery in Ottawa.
Jakob von Baeyer -- Our youngest -- senior editor, global integrated content at PricewaterhouseCoopers (PwC), sometime jazz trombonist.  Growing family in London UK.  Visit him on LinkedIn.
Carl von Baeyer -- My younger brother, a retired psychology prof (researcher on pain in childhood).  Family in Winnipeg.
Hans Christian von Baeyer -- My older brother, a physicist retired from the College of William and Mary.  Family in Williamsburg, Virginia.
Veronika Finckh, née von Baeyer -- My big sister, who once upon a time painted pictures (see two below).  Now in Heidelberg.
Chris von Baeyer -- My nephew, an actor, educator and consultant in Toronto.  Visit him on LinkedIn.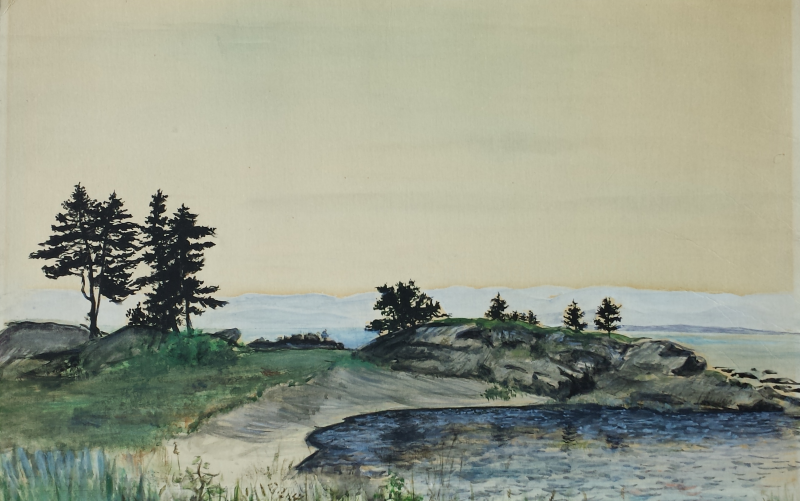 Here is one of my sister Veronika's paintings. It was done in St. Patrick, Québec in August 1952 when she was 16.  Prime Minister St. Laurent happened by while she was painting, and praised it.  She then did a portrait of his grandson and presented it to him. See his letter of appreciation, with a bit more of the story.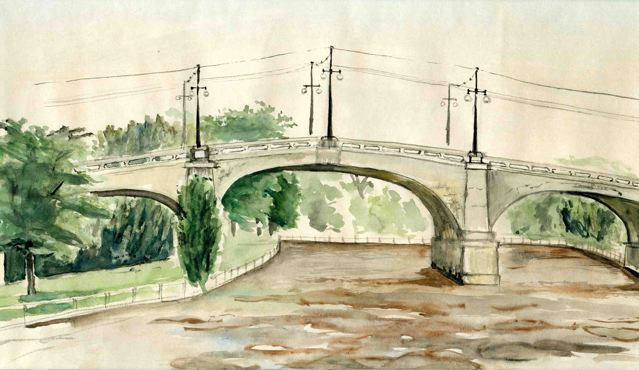 The second was done circa 1955 in Ottawa: a view of Bank Street bridge, shown in Exploring the Built Heritage of Old Ottawa South, 2014, and the Old Ottawa South History website.
Here is some von Baeyer family history.
Here is a list of things and places named Baeyer, compiled by my brother Carl.
      Life in Ottawa:
See Edwinna's history of our neighbourhood park: Windsor Park in Old Ottawa South. (This report is the basis of an article in OSCAR, the community newspaper, of November 2010.)
See the piece I wrote with Kathy Krywicki on Our Community 100 Years Ago: A Sketch of Old Ottawa South in 1911 for the OSCAR of January 2011.
See the article I wrote with Kathy Krywicki about Slattery's Field in Old Ottawa South: Ottawa's First Accidental Airfield for the OSCAR of January 2010.
See the house where Edwinna and I lived from late 1983 to early 2018, with a bit of its history since 1912: The Marion House, Old Ottawa South. (This article is the basis of an entry in the Old Ottawa South History website.)